Lease the Kia Forte Today!
More and more folks these days are looking for comfort, performance, and economic value both in gas mileage and price when it comes to purchasing a new vehicle. Well, if that is the case for you then we can guarantee you will find all that and more in the new Kia Forte.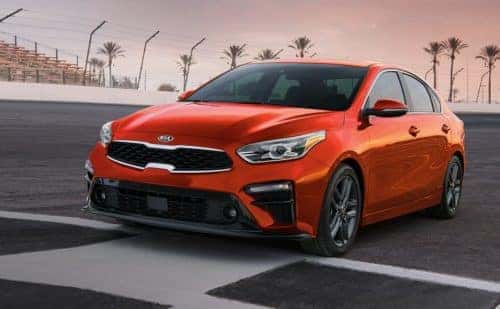 Available as a sedan or hatchback, both offer seating for up to five people, and the hatchback's back seat can be folded down to provide fifty percent more cargo and storage space for road trips and vacations! Couple that with its incredible fuel economy, numerous safety features such as a four-wheel disc anti-lock braking system, traction control, brake assistance, and several others, and you have a vehicle that not only offers value and performance but security and peace of mind as well.
And since it is available to lease if you prefer, you can find even more value in lower monthly payments, and more reliability in the fact that it will be under warranty for the entire time you drive it. With so many choices in the automobile market today all competing for customers, wouldn't it be nice to know that you have a vehicle capable of meeting all your driving needs, saving you money, and making sure you and your family are safe when out on the roads?
If you are ready to lease your own Kia Forte, or even if you are just beginning your shopping experience and would like to know more about it, stop by and see the folks at Mark Kia today, located at 1000 N Scottsdale Road in Scottdale, they would love to help you. If you can't make it in person but still have questions, you can also give them a call at 480-425-5300 and one of the friendly staff members can get you all of the information you need.
Scottsdale Kia Forte | Kia Dealership near Tempe